Description
Garage Alfa Romeo – Scuderia Ferrari
Scuderia Ferrari – Modena 1929 – 1943
Headquarters of the Scuderia Ferrari, the Garage Alfa Romeo (1929 – 1943) in 1/32 scale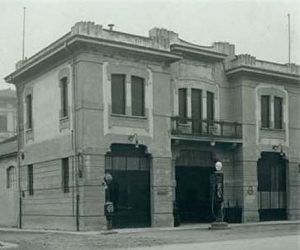 We wanted to go a little further and offer a different product at 1/32 scale, with a high level of detail and artistic painting. Limited to 25 units and hand built only under command. The model has dimensions of 57.5 x 50.5 cm in base and 37 cm in height.
(Auto Avio Costruzioni 815, Enzo Ferrari and truck are not included).
The diorama represents the building located at 11 Trento e Trieste street in Modena between 1929 and 1943. Year in which the company moved permanently to Maranello. On November 16, 1929 Alberto Della Fontana signed in Modena the constitutive act of the Società Anonima Scuderia Ferrari. Itwas the start of a new era for Italian motorsports, the Ferrari era. The Scuderiasoon became a top-level racing team, always counting on Alfa Romeo equipment, being the only ones capable of facing up to the powerful and technological German racing cars that were dominant at the time.
In 1939 the Scuderiawas dissolved due to the break with Alfa Romeo, and was founded Auto Avio Costruzioni. Dedicated to the independent manufacture of aircraft and automobile parts, in addition to the construction of the 815, a model reproduced by Modelant. After the war the company was finally renamed to Ferrari.
Sold out.